Bird Directory
For Pet and Wild Birds
Welcome to the BirdSites.net, a human-edited Bird Directory for both pet and wild bird sites. Here you'll find birding resources and supplies, pet birds, pet bird supplies, bird husbandry info, birding vacations, and more.
We are a human-edited bird directory and so you will only find quality sites here. In fact, we are one of only a few hand-coded Web directories on the Web. This means there are no automatic submissions - each site is manually added to the directory after you submit your site.
Our directory has lots of great bird sites so please browse our categories. You'll find many excellent sites here.
If you are the owner of a bird site please Add Your Bird Site to our Directory.
Featured Sites

Somerzby
Somerzby is the home of innovative stylish pet products. We supply chicken coops, cat enclosures, rabbit hutches, guinea pig cages and accessories that make pet's life better and owner's life easier. Look through the exciting features of our range and you will see why our customers are consistently happy.

Gloucester Tree Surgeon
Healthy trees encourage a bird population to flourish. We have this in the forefront of our minds when discussing your needs. Offering our services throughout Gloucestershire. We are a small, local company that aims to please. Friendly and affordable you can't go wrong.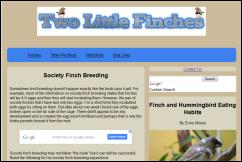 Two Little Finches
Information about keeping finches and other pet birds.

Tree service North Vancouver BC
Although we complete plenty of tree removals for customers who feel that is the best or only option, here at Tree Service North Vancouver we enjoy nature and love to see it preserved as much as possible whenever possible. We are proud to provide both tree cabling and bracing services in addition to completing removals and maintenance. We have top quality materials including steel cables that can protect your tree and the branches from wild weather conditions and ensure that it stays standing and intact. Our experienced arborists will assess the problem and then determine which parts need to be removed and get to work bracing them. This eliminates the risk of your tree branches being removed and potentially causing damage on your property. Using our professionals to fortify your tree is the best way to make sure that it remains healthy and stays standing for years to come, even in the face of crazy conditions. North Vancouver Tree Removal offers multiple tree services, if think of any questions about tree fortification, or if you need your tree examined by our professional arborists, please call us today!
Latest Articles
Categories
Latest Bird Links
West Jordan Tree Service
Here with West Jordan Jordan Tree Service we are a fully operational arborist and tree services people. We are the business that you need to contact In regards to everything and anything related to trees in West Jordan in your property. We do tree pruning tree removals, tree pruning, stump grinding, tree cutting, and virtually anything related to some tree services.
Added July 25, 2020 - Category: Trees & Shrubs
---
Elk Grove Tree Care
A proud family run tree service company consisting of arborists who care about who their customer's property looks. A tree care company protects the home and improves the value with their service, that's the goal that we strive for on every job.
Added July 25, 2020 - Category: Trees & Shrubs
---
Folsom Tree Service
Folsom Tree Service are the leading arborists in the city of Folsom and surrounding towns. When you need a person to look after a number of trees or need to hire somebody for emergency tree removal, we are the tree service business to call. We love trees, but know they need to be tamed. We take care of tree trimming when the branches get too long. We do tree pruning, we mill and remove stumps and roots, we do tree cuts, and when your trees become sick, use a tree doctor over to your home to diagnose a tree disease.
Added July 25, 2020 - Category: Trees & Shrubs
---
Waterloo Tree Service Pros
Care for the trees on your yard could be almost as engaging as tending for your pets. Or in other words, chances are you're going to want what's best at all times for them. Part of this means watching after them. But another part could just mean bringing in the ideal arborist or tree service company for jobs like disease control pruning, transfer, or other moves that require delicate care. Part of that could mean bringing in specialists like the ones you'll find in Waterloo Tree Service Pros.
Added July 25, 2020 - Category: Trees & Shrubs
---
Pet Pad - Birds
Petpad.net is created from enthusiasm and love for pets, and animals in general. Find the latest pet news, helpful tips, and articles.
Added July 1, 2020 - Category: Birds
---
Elgin Roofing
We are a roofing company that focuses on the details of proper roofing. For example, we work to ensure that our roofs are composed of materials that benefit rather than harm local bird species and attract rather than deter wild life.
Added July 1, 2020 - Category: Birds
---
Roseville CA Tree Service
We are a local tree care company that specializes in curating landscapes for the benefit of local bird populations. Contact us today for more information on how we can boost the health of your trees and birds.
Added July 1, 2020 - Category: Trees & Shrubs
---
Tree Cutting Service MA
We are a professional stump grinding and tree cutting service, dealing mostly with removing and grinding stumps but also dealing with tree removal and tree trimming etc. Based near Boston and serving the greater Boston area.
Added July 1, 2020 - Category: Trees & Shrubs
---
Directory Critic
Contact us at webmaster@birdsites.net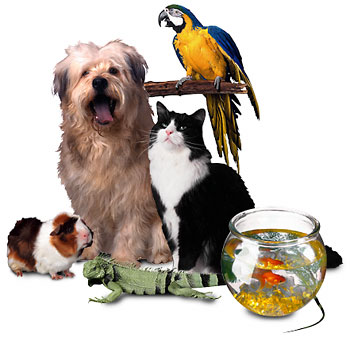 Best Animal Sites | Two Little Finches | Click Here to Visit birds | Ultimate Top Parrot Sites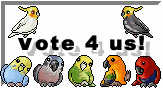 Copyright © 2008-2020 BirdSites.net. All rights reserved.

Bird Favicon by Gina Mikel.

Website thumbnails provided by BitPixels