Bird Directory
Welcome to the BirdSites.net, a human-edited Bird Directory for both pet and wild bird sites. Here you'll find birding resources and supplies, pet birds, pet bird supplies, bird husbandry info, birding vacations, and more.
We are a human-edited bird directory and so you will only find quality sites here. In fact, we are one of only a few hand-coded Web directories on the Web. This means there are no automatic submissions - each site is manually added to the directory.
Our directory has lots of great bird sites so please browse our categories. You'll find many excellent sites here.
If you are the owner of a bird site please Add Your Bird Site to our Directory.
Latest Bird Links
Lone Palm Birds
We are a very small home based aviary. We are currently working in conjunction with many other exotic bird breeders to provide the finest in hand fed baby birds. All babies are hand fed, spoiled rotten, and weaned onto a pelleted diet.
Added April 3, 2013 - Category: Birds for Sale | Bird Breeders
---
The Bird Whittler
Take one individual who studied birds in their natural habitats then give him a general purpose Stanley knife, a block of wood (lime) and tell him to whittle a lifelike songbird.
Added March 25, 2013 - Category: Art & Gifts
---
Bird House Store & More
We offer a variety of bird houses, bird feeders, bird baths, home decor and garden items.
Added March 17, 2013 - Category: Birding Supplies
---
Australian Bird Books - Native Bird Species
An Australian online bookstore, with a specialty in books on the Birds of Australia. We offer both new and used books, and can easily order in books not in stock. We are also very happy to search for out of print and rare bird books, on both Australian and Overseas bird species. Online 7 days to answer questions.
Added March 15, 2013 - Category: Birds
---
Animal & Pet Portraits by Pam Reed
Beautiful, realistic pet portraits of horses, dogs, cats and all animals by professional fine artist Pam Reed. Immortalise your family pets and special companions in original fine art so that you and future generations can enjoy and remember.
Added October 15, 2012 - Category: Art & Gifts
---
---
Gina Mikel
.
Webworldtoday.com top banner made by using picture tubes made by
Arleens Web Picture Tubes
and from
Hypergurl.com Picture Tubes
.
Two Little Finches
|
Click Here to Visit birds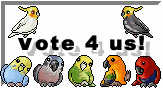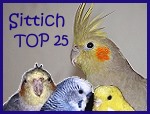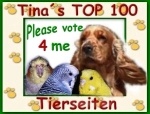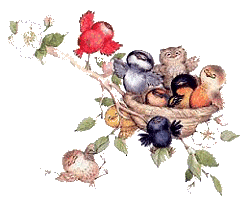 Pet World Forum Topsites
|
Ultimate Top Parrot Sites
|
Top Bird Site
|
Pet Services Top 100 Sites
|
Top Pet Sites